Trang 1 trong tổng số 1 trang
,Erika Sawajiri (沢尻 エリカ Sawajiri Erika),born
April 8
,
1986
in
Nerima, Tokyo
) is a
Japanese
actress
,
model
, and
musician
. Her alias in her music career was
Kaoru Amane
, but she has recently started her own project under the name
Erika
. She is currently affiliated with
Sony
for her record label as formerly Kaoru Amane and later Erika, and
Stardust Promotion
for her talent agency as her real name, Erika Sawajiri, and became
popular after playing a girl who suffered from an intractable disease
called
spinocerebellar degeneration
(SCD) in the nonfiction drama "
1 Litre of Tears
".
Biography
Erika was born to a
Japanese
father and an
Algerian
-
French
mother and is the youngest of three brothers and sisters. Her father owned sixteen
racehorses
, including the horse,
Edonokoban
(エドノコバン,
Edonokoban
?
). Her father died of
cancer
when she was in her third year at junior high school. Her second eldest brother died in a
car accident
when she was in her first year at high school. Her mother managed a
Mediterranean
restaurant
(closed down for unknown reason) and Erika sometimes helped with it. Erika has been
horseback riding
since she was a child.
In 1999, Erika passed the
Stardust
audition after graduating from elementary school. She became part of the idol unit
Angel Eyes
and began modeling for junior fashion magazines such as
CUTiE
and
nicola
. She later won the grand prize for the 2001
Seikore
and became a regular on the BS news program
Harajuku Launchers
. In 2002, Erika started her career in film as well as extending her modeling career as a
gravure idol
. Her first film was
Mondai no nai Watashitachi
.
She also became one of
Fuji TV
's Visual Queens in 2002. On the NTV variety show
The Yoru mo Hit Parade
,
she became a regular from April till late June, shortly after leaving
the program for the CX news program Chou VIP Fortune no Tobira from
mid-June till late August. In November, she was on the CBC variety show
Bijou Dokyuu
and TBS show
B-1
. She got her big break when she was cast in the TBS TV drama
Hotman
. Her most notable role was in
1 Litre of Tears
in 2005 when she portrayed a girl with the degenerative disease
spinocerebellar degeneration
.
Erika first started her music career under the name "Kaoru Amane,"
the name of her character in her last drama, the TV adaptation of
A Song to the Sun
(Taiyou no Uta). The single went into number 1 in its second and fourth week. On
July 16
,
2007
, Erika released her 'debut' single under only
Erika
entitled "
Free
". The single was immediately ranked on its first day as number one on the
Oricon Charts
. Oricon stated that she is the only artist in 39 years to get their first two single hit number one since
Hiroko Yakushimaru
in 1983.
She decided to enter the entertainment world because she wanted to meet singer
Namie Amuro
whom she idolizes.
Controversy and criticism
On
September 29
,
2007
, Sawajiri showed up at the
Closed Note
movie
premiere
and was visibly upset.
[1]
Many people perceived this as a 'bad
attitude
'. She answered questions she was asked with very short, impolite answers. The
Japanese press
treated this
issue
as a very big deal. On
October 2
, she posted an official
apology
on her
website
.
[2]
She
states that she regrets her attitude, and what she did was very
unprofessional and she shouldn't have let her mood affect her job. A
few days later she appeared on a
TV Asahi
's morning
news show
"Super Morning", and gave them an exclusive 120 minute
interview
.
She said again that she was sorry for what she did, and she knew there
was nothing she could do to change what happened, but she would try to
make up for it. She also denied the
rumors
that she was being suspended by her management.
Following this issue, she was going to attend the 12th
Pusan International Film Festival
, which was held on
October 6
,
2007
, but she announced she would not attend this.
What was later found out after the interview was that she had been seen in the club with a man who was said to be her lover
Tsuyoshi Takashiro
.
[3]
She has been rumoured to not have anything in her 2008 schedule and that she is staying in
United Kingdom
for a year and take a break in the entertainment industry. Stardust
Promotion have confirmed to replace her during that time period with an
actress
Kaho
.
[4]
On
January 4
,
2008
, she and her lover Tsuyoshi Takashiro were spotted at the
Narita Airport
checking in for a flight to
London
.
She with a black coat and glasses, carrying a teddy bear and a camera
has been in a visibly good mood. Her sour face since the stage greeting
changed into a bright smile. She had been shaking hands with some of
her fans. Reporters tried asking her questions about her future plans,
but all she did was smile and continue on her way.
[5]
Actress Erika Sawajiri returned to Japan on
March 29
,
2008
after nearly three months in London with her boyfriend, media creator
Tsuyoshi Takashiro. While in London, Sawajiri attended a language
school. Her familiarity with English became evident at the airport when
several cosmetics items fell out of her bag, and she exclaimed, "Oh
shit!" She continued to mostly use English while at the airport, and
she reportedly has become fluent enough to handle ordinary
conversation.
[6]
[7]
Sawajiri stated that she would be in Japan for her birthday,
April 8
, although she planned to return to London some time after that.
[8]
Miscellaneous
She is also known as a fan of English rock band
Led Zeppelin
[9]
[10]
[11]
. In Led Zeppelin's
reunion concert
at
The O2
in London, England on
December 10
,
2007
,
3 seats for Japanese celebrities were prepared. Only she and her lover
saw this concert as Japanese. (Another Japanese audience except them
called Tomoaki Ogura refused to go to the concert because he worked on
Japanese TV program.
[12]
)
Some photos of Erika Sawajiri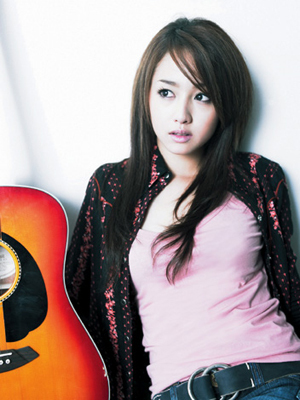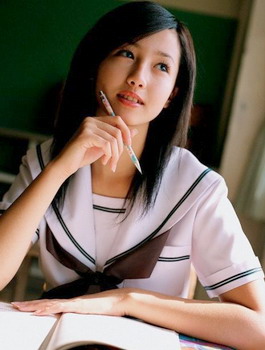 Online Videos by Veoh.com
Còn đây là video clip của cô : Taiyou no Uta,mấy bài khác thì em mình có nên mình cũng không dám lấy (vì 2 anh em không đụng nhau)

_________________
I am happy because I am working for the best
Not too late if you want to do something for everyone,but too late for yourself
---
Trang 1 trong tổng số 1 trang
Permissions in this forum:
Bạn
không có quyền
trả lời bài viết